Press Release:
Detroit Becomes Home to Michigan's First PACE-financed Green Roof with $1 Million in Funding from CounterpointeSRE
Green infrastructure, incentivized by DWSD's Stormwater Infrastructure Plan and financed through the Lean & Green Michigan PACE program, is set to emerge along Detroit's future Beltline greenway as the Letts Industries Building integrates itself into changing landscape.
GREENWICH, CT (July 8, 2020) – Counterpointe Sustainable Real Estate announced today the closing of over $1 million in C-PACE financing for the installation of a green vegetated rooftop and a series of at-grade stormwater features, including a rain garden, at the Letts Industries Building in Detroit, Michigan. The building, originally designed as the Standard Motor Truck Company Plant by Albert Kahn, will soon have a green roof which will improve the building's energy efficiency and stormwater management and benefit both the owner and the community.
The PACE funding from CounterpointeSRE marks the first use of commercial PACE financing for a green roof in Michigan, as well as the first green infrastructure roof project on private property incentivized by the Detroit Water & Sewerage Department (DWSD). The project also demonstrates how PACE financing has evolved from energy efficiency to an ever-growing number of resiliency and sustainability measures.
The green roof project is being facilitated by Inhabitect, a Traverse City, Michigan based firm that designs, builds and grows such projects nationally. Additonally, Environmental Consulting and Technology, Inc. (ECT) a Gainesville, Florida based firm is providing ecology-based site civil and landscape design for the green stormwater infrastructure out of their Detroit and Ann Arbor offices.
"This green infrastructure project is the perfect example of how PACE can support city initiatives with private capital to improve our communities," explained Michele Pitale, Managing Director for CounterpointeSRE and head of the firm's Green Roof Program. "Green roofs such as what Inhabitect and ECT have designed for the Letts Industries Building are of interest to us because they reduce carbon, protect the waterproofing membrane and improve cash flow for owners," she continued.
Following a significant renovation in 2015, the owner Charles E. Letts III of Letts Industries became interested in a green roof and rain garden installation based on the long-term benefits the technologies offer. These systems will integrate the property into a planned, city-wide, greenway and bike path initiative that will pass directly behind the property. From an infrastructure standpoint, the green roof will provide the building with energy efficiency and stormwater management, and extend the life of its roof.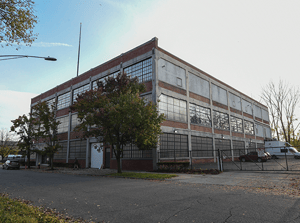 In addition to the PACE financing, the project is supported by a grant from DWSD's Capital Partnership Program, as well as an estimated 19% reduction in whole-building energy use that makes the project immediately cash flow positive.
"PACE financing is a wonderful mechanism for funding green stormwater infrastructure and green roofs in particular because it is a technology that pulls many fundamental aspects of PACE together," said Nathan Griswold, President of Inhabitect. "Energy and maintenance costs are saved but that is not all. Green roofs provide triple bottom line benefits, including onsite stormwater management, habitat creation, and reduction in the heat island effect," he continued.
The financing provided by CounterpointeSRE was enabled through Michigan state law and Wayne County's resolution to join the Lean & Green Michigan PACE program, which has been active since 2013.
"Wayne County is proud to lead the way for Michigan PACE financing," said Wayne County Executive Warren C. Evans. "Supporting our business community to achieve increased energy efficiency at no expense to taxpayers is why PACE is a proven driver for our region's economic growth.
"This landmark PACE transaction is a great reminder that PACE can help property owners upgrade their buildings in many critical ways," added Colin Bishopp, Executive Director of PACENation. "The new green roof on the Letts Industries Building is sure to be the first of many green roofs in Detroit thanks to Counterpointe, Lean & Green Michigan and their other partners. We look forward to the continued growth of PACE in Michigan."
"It is fantastic to see PACE financing applied to green roofs, a technology that delivers tangible benefits to building owners and the community. This is undoubtedly the first project of what promises to be many more in the years to come," said Steven W. Peck, GRP, Honorary ASLA, Founder and President, Green Roofs for Healthy Cities.
PACE financing is available in more than 20 states. Through PACE, the local county or municipality recognizes energy-saving retrofits, renewable energy solutions, and certain resiliency measures as public goods and allows for the placement of a voluntary tax assessment to pay for the permanent and fixed improvement. The special assessment is funded by private capital and repaid by the property owner with long term, fixed rates through the property tax structure.
Project
Nathan Griswold, Inhabitect LLC | Traverse City, MI
Environmental Consulting & Technology, Inc. | Detroit, MI
Farbman Group LLC | Southfield, MI
Funding Sources
Detroit Water & Sewerage Department (DWSD)
Counterpointe Sustainable Real Estate (CounterpointeSRE)
Lean & Green Michigan
Case Study (link)
About Counterpointe Sustainable Real Estate
Counterpointe Sustainable Real Estate (CounterpointeSRE) is a leading commercial real estate finance provider specializing in sustainable infrastructure improvements through PACE financing. Counterpointe Energy Solutions together with its affiliates including CounterpointeSRE is engaged in implementing, funding, managing and administering PACE programs and is a program administrator in Chicago, California, and Florida. For more information, visit counterpointesre.com.
Media Contact
Adam Moskowitz
203.837.7816
amoskowitz@counterpointees.com